Providing quality homes in both Queens and Long Island
Serving the rental community for 36 Years
Thousands of happy families
Our history


November 2007
The Pranav Computer Training Center, A State of the Art Computer Center equipped with 32 Dell dual core processor computers, printers,networking equipment, internet access and new building infrastructure is formally declared open at the Cove and John Ashram

October, 2008
The team cuts the ribbon to its second State of the Art Computer Center this time in New York equally impressive, Zara Computer Training Center, at the American Sevashram Sangha, Jamaica, New York; the notion was charity begins at home


June, 2009
Jay Sobhraj awarded corporate responsibility award for philanthropic work and business accomplishments by GABPC - Guyanese american business professional council

October 2010
George Subraj honored by Shri Laksmi Narayan Mandir in Orlando Florida for contributions to extend the Mandir

September 2011
George Subraj honored by the president of the republic of Guyana, Bharat Jagdeo for his contribution toward the live-kidney transplantation projects in Guyana

January 2013
George Subraj recognized by GOPIO (Global Organization of People of Indian Origin) for outstanding community service to the people of USA and Guyana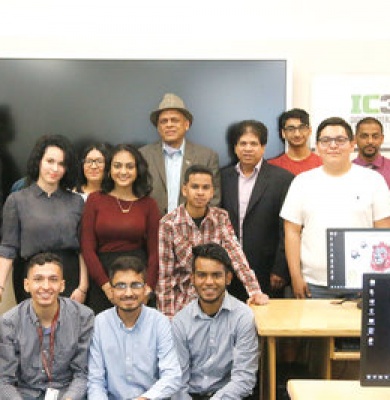 June 2017
ZARA Realty awarded college scholarships to 2 hardworking graduates of Richmond Hill High School.

Client Testimonials
The process has been extremely smooth. Anil was very helpful throughout the entire time to get me all set for the Apartment :)
Shafi
August 2017
I dealt with James and he was absolutely patient and actually made me feel like he was working alongside me. Sandy walked me through the lease signing and was very thorough and explained everything in detail, and asked me if I had any concerns. I would recommend James to all my family and friends. I am truly satisfied.
Rose
August 2017
I live at Zara Realty building... at 90-36 149th Street. The super is helpful and the building is clean. I live at the Zara building since 2008 and they are very nice to me. Daniel at the management office helped me all these years and he is one of a kind.
Charles
August 2017
Rishi was very helpful and took the time to find the most desirable spacious studio for my needs and budget . The agents very attentive in answering all my questions, making me feel comfortable with the process. I would highly recommend the sales agents [Singh Team] to anyone I know looking for an apartment. The property manager, Jasmine was excellent and took the time to make the application and move in process was a smooth transition
Shawn
August 2017
Nayeem and Rishi were very friendly and answered all of our questions and concerns. and easy to get a hold of. The process was very quick and simple. would highly recommend speaking to either one of them. Jasmine was kind and welcoming. She did a very good job getting the deal closed.
Cyn
August 2017
I was very happy with the entire process. Sandy was kind and very helpful to review all paperwork in detail. Raj was awesome to work with. He is kind, friendly and helpful in showing the apartment, reviewing everything I needed to know. I appreciate all that was done for me and my family and believe we will be happy here.
Donna
August 2017
I live at the Park Haven building, the building is very nice, clean and safe. I love my apartment. The staff of Park Haven and Zara is very professional and kind. I had some setbacks, but they assisted me to get the help I needed. I recently met with Daniel who was by far sat and helped me with my lease and my account. They are nice people
Kabir
August 2017
The service from Rishi and Shawn was remarkable especially given that we called and email as the primary means of communication. Both were accessible at all time. The only challenge which is not a reflection of the agents but a reflection of the company, it is important to provide transparent information so that tenants can make decisions knowing available information.
Tawanna
August 2017
The best property management that I've ever dealt with. They're very attentive, professional, helpful and reliable. Very happy with the home we rent and don't have any issues with them. I would definitely recommend them if you're looking for a good apartment to live.
Jeff L
August 2017
This team will not let you down. I'm looking for a home to rent near my work and the agents are very Professional and sensitive to my needs. They promptly answered any questions I had & quickly followed up on my requests. Such a great experience dealing with them of finding a home. I'll definitely refer Zara Realty to my friends looking for home to rent.
Kris B
August 2017
They are friendly, attentive and quick to respond to any questions and concerns. You can tell they care. Find quickly a good home to rent for you. True Professional
Mollie I
August 2017
I really don't know why there are so many harsh negative reviews with them don't get me wrong, but this company really gives me a right service. I really don't have any issues with them regarding the place and having transactions with them. Their agents worked hard to provide good service to me they helped throughout the finding process. - took their time to show vacant houses; the same as I described with them. And finally got what I wanted a home to rent. I've been a tenant here with 6 months and I really have a great communication and good relationship with them; if I have anything questions they answered it immediately. I don't have any problems reaching anyone of them, but most importantly, if there is anything problem occurred, they're very prompt about it. This company really stands out for their great service and professionalism and I'm so glad that I found them. If ever I needed to rent again, I'll definitely call them.
Kathleen M
August 2017
They made my renting without no-hassle. I was looking for an apartment to rent and they walked me throughout the finding process. From the first interaction, with agents, finding an apartment to move in, there are no issues. All went well. I'm so happy with the property I rent from them. Thanks, Zara.
Richard B
August 2017
I am looking for a property to rent and found Zara and it's great working with them. They were quick to contact to set a schedule a for viewing vacant place to rent and the process application is easy because they helped me into it. All I got to do is to fill-up and sign the form. Very pleased with their service. So professional! I would highly recommend them if you're for a property to rent. Happy with the home I rent.
Miles E
August 2017
Hands down, Zara Luxury Apartments & Homes has to be the most enjoyable place to live in town. Love my studio, the amenities, and view! It is nice to be in well managed building. Leasing office staff is very friendly and always responds with a sense of urgency. I look forward to seeing new buildings or new renovations pop up. Highly recommended
Francisca O
August 2017
They made the process of renting a home easy and less stressful for us. Our office was moved into a new location, that why I find a good location and home to rent which is near to my workplace and gladly found Zara Real Estate Agents. They show me immediately to us some vacant houses to rent; i'm glad that I have everything needed to make decision of renting will be A.S.A.P. They also handled all the paper works for us which is very great on our part to avoid hassle. So, I'll gonna do is read and sign it. Such a good experience working with Zara Agents and would definitely recommend to my friends.
Shane G
June 2017
They're far the best company that I've rented from. They have been very helpful and on top of everything I need. I was extremely satisfied with their level of dedication and service they provided to me. Very Professional!
Jeni B
June 2017
I've been living at New Haven Apartments for almost 4 years now. As a matter of fact, I just renewed my lease for another 2 years. I feel at peace living here. No matter what time I come home in the evenings, I do not have to look behind me. As a single person, security was one of my main concerns. This place is soooo secured with cameras all over. The office staff is very friendly and don't talk about the maintenance crew. Every time I have a problem in the apartment and make a request, they are always on time to fix the problem. They take great pride in what they do. Yesterday (6/16/17) I had a friend visiting me from Florida and as soon as she came off the elevator, the first thing she said was, this place is soooo clean. I also took her in the mailroom and she was amazed to see how clean it was. I would highly recommend New Haven Apartments to all my friends and family. Just loveeee this place!!!!
Natasha W
June 2017
They were simply a top-notch. This was our first renting a home experience and Zara Realty agents want to make sure that our rental experience with them will be great. Their expertise on marketing was very convincing and the process of renting a home made it efficient and pleasant. Their professionalism, hard work and persistence is what makes get our perfect choice of a home to rent.
Tiffany Y
June 2017
It's hard to find a good apartment on your own, but gladly met the agents of Zara Realty because of my friend's recommendation. I'm so happy they took time to have an initial discussion of my wants and needs of an apartment. After that they tour me around to view some apartment that matches my criteria. Ended up on getting a good apartment with them. Communication with them was great. They kept me up to date with the status of my application. Overall, a great experience.
Sherica B
May 2017
Zara helped me to find a new apartment for me. One of the agents at Zara Realty was highly professional, very talented and organized in showing some vacant apartments within my time schedule. Clearly understands my budget and boundaries, helped me to find a nice unit in a nice location. I am happy to recommend Zara Realty to all people who are looking for a good agent that will help them to search a perfect apartment for them.
Donna R
May 2017
I called Zara Realty just last week to find a new apartment for me. They were very responsive, helpful, on time, and were able to help us find many amazing apartments within my price range. So happy that I found a new apartment quickly.
Janice M
May 2017
Excellent. Professional. Straightforward. Responsive, courteous staff.
Beverly
May 2017
I'm trying to find a new apartment near my work and I'm so glad that a friend recommends me Zara. One of the agents called and spent time to discuss exactly what I was looking for. Then sent me about 10 pics of vacant apartments thru email and also helped me processed everything for me. Having a transaction with them was so fast, easy and stress-free. Finally, I've got a new apartment without hassle. Would definitely recommend them.
Leslie A
April 2017
Zara Realty provided me a good service from start to finish. They helped me to find a perfect apartment that passed to my qualifications. They showed me some samples of their vacant properties the same to what I've described to them. And I finally decided what I wanted to rent. I just want to thank Zara Agents for making my searching easy and stress-free.
Shawn B
April 2017
I received a positive experience at Zara Realty. They are very professional when it comes to customer service. –The customer service I've talked to over the phone was friendly and polite; I have many questions to ask, but they immediately answered it, patiently and also schedule an early appointment for me. Zara Realty Agents came on time, as promised. They asked me some questions about what I am looking for a home and I describe it to them. After 2 days, they showed some properties for me to choose, and get immediately exactly what I wanted. The monthly fee was so reasonable. They made my searching of property stress-free and hassle-free.
Primo H
March 2017
You can find a better place with the help of Zara Realty Agents. They asked you what you want in a home and they will find it for you. Completely Satisfy with our home. Thanks to the Agents at Zara Realty.
Joyce F
March 2017
Zara Realty is the most responsive service that I've ever dealt with. Applying and renting with them was easy and straightforward. I enjoyed my time renting through them. I would recommend them if you're looking for a better property to live.
Tessa W
March 2017
We had a great experience with the Zara Realty team. Communication with them was great and the process of finding was very quick, easy & no-hassle - which is significantly eased the stress. Thanks Amir and especially to your team for finding us a new & peaceful home to live.
Rockie E
February 2017
The staff at Zara Realty is friendly and professional. Their apartments are in a great location, and many are newly renovated. My experience with Zara has been nothing but positive. Tony and Amir answered all of my questions and made me feel very comfortable. I would definitely recommend Zara to my friends and family. Thank You!
John S
February 2017
I highly recommend Zara Realty if you're searching a perfect apartment to live. They make your finding an apartment smooth, hassle-free and stress-free.
Sharon S
February 2017
I really love these agents! They really understand our wants and needs of a perfect place to live. The apartment they've got for us was nice, living room and a full kitchen. It was close to everything we needed. All in all, they're great value for money and will definitely recommend them to others.
Crista L
February 2017
It's great working with them. They spent time to find an perfect apartment near to my work. I really love the home and place, it feels so good to live in a place with a good environment - friendly and lovely neighborhoods! Thanks...Zara
H Hughes
January 2017
Working with Zara Realty has nothing short of pleasant. They were very quick to respond to any concerns. I would definitely recommend them. Thanks for the great service, Zara.
Alenna H
January 2017
Working with this realtor was great. They made my searching smooth, easy and hassle-free; find a perfect place for me in no time. They were very organized; they took care to listen to what I am looking for and showed some great properties. I didn't feel pressured at all. I ended up getting a perfect apartment in just a day & give me a reasonable price on it. Worth it! I would definitely recommend Zara to all of my friends
Jason B
January 2017
This is the best company that I ever dealt with. They have my best interest at heart; very professional, nice and courteous. – They did a nice listening to what you want and have a good knowledge about areas. Helped us finding a perfect apartment to live –find something that fit to what we were looking for. Ended up with a fantastic place.
James R
December 2016
I've had nothing but good experience with this property. They were very professional and personable; they communicate with us every step of the way and go above and beyond to assure that your needs are met. They find us a good apartment to live. – The property is in a good location, great parking and storage and the good thing it is near from work. They also followed-up on us in a timely manner if we have any issues with our apartment or with a neighbor. You can tell that they really care about your experience as a resident. Thanks Zara Realty for making our living wonderful.
Glenn C
December 2016
Thanks to Zara Realty and to all staffs who helped me to find a perfect apartment for me to live. Can't be happier with my new apartment. Truly a professional! Will definitely recommend to anyone.
Sophie L
November 2016
We had an excellent experience from Zara. They spent time with us all over the place to find a perfect home. They truly had out interest at heart. Their professionalism, knowledge in the area; the home types/styles were very insightful. We love our new home to be and we couldn't be happier with it.
Evangeline W
November 2016
They were extremely nice as well as professional and responsive. In only a day they helped us to find a home we wanted. All the properties they showed were nice and suit to our wants and needs. The process went very smoothly. I am completely satisfied with my new home. Thanks… Zara!
Maryanne N
November 2016
Zara Realty helped us find a new apartment. It was a big help, they gave us new home to stay, it was a quick one and we appreciate it.
Eileen M
October 2016
Renting from Zara has been a top-notch experience. Great tenant community, no issues with neighbors, and tenant-friendly staff that have always been both helpful and responsive to all questions and requests. Sadly I will be moving to California shortly but would absolutely recommend Zara to friends and family looking for a place in Queens!
Jon C
September 2016
Zara Realty was the best. They gave us many good apartments to choose from. It was great thing to work with Zara Realty. Will recommend.
Michael F
September 2016
I called Zara Realty because I need a apartment asap. It was a hasty decision because we had so much problem on that neighborhood so we needed to move immediately to another apartment. Thanks to the help of an Agent from Zara Realty, we found a new apartment. We didn't do anything, we just told him that we needed a new place and then he delivers it. Thanks, you are so reliable.
Greta A
September 2016
We made a great choice when we hired Zara Realty. We never thought that we could find a new apartment after we talked that day. It was like a day after we talked and then they called us to check the new apartment. Thank you again Zara Realty. You are the best!
Joyce N
September 2016
We've travelled a long way from Baltimore to Manhattan with my friends. Really enjoyed the good service provided to us by the management! It was a very cleaned and systematic facility, and service by the staffs were very exceptional. Zara also provides security for you convenience with safety personnel and visible close circuit cameras. They are so accommodating and polite. Their head even asked us to contact them for any concern occurrences. Location was very close to a shopping center which we eagerly wanted to lavish on. What can I say more? Wouldn't hesitate to come back here for another visit. Highly recommended!
Michael B
August 2016
As someone who has done business with Zara Realty, I would like to vouch for their honesty and trust worthiness. I have visited the office a number of times and have found their staff to be friendly and helpful. Senior management is professional and easy to work with. Recommended to all!
Steve Y
August 2016
I rented from Zara prior to moving to San Francisco. Love the staff, they were always super friendly and helpful - especially Amir. I never ran into any issues and have recommended them to friends and family since
Shannon M
August 2016
I found in our more than 2 years dealing with Zara Realty that they are very approachable, helpful, professional and sincere. In other words, they are great to deal with. They would always answer questions or deal with tenancy problems promptly. If we didn't have to move, I would still be happy to remain as their tenants.
Janell M
August 2016
Our staff has implemented precautionary measures in response to the latest updates on Covid - 19 to prevent further transmission and ensure the well-being of our residents and staff. This includes increased cleaning and sanitizing frequency throughout our buildings. We encourage all of our residents to familiarize themselves with the latest official recommendations from government bodies on how best to safeguard against the virus and prevent the spread thereof.
For information on financial assistance please click here to download info.
Close