Providing quality homes in both Queens and Long Island
Serving the rental community for 36 Years
Thousands of happy families
Our history


November 2007
The Pranav Computer Training Center, A State of the Art Computer Center equipped with 32 Dell dual core processor computers, printers,networking equipment, internet access and new building infrastructure is formally declared open at the Cove and John Ashram

October, 2008
The team cuts the ribbon to its second State of the Art Computer Center this time in New York equally impressive, Zara Computer Training Center, at the American Sevashram Sangha, Jamaica, New York; the notion was charity begins at home


June, 2009
Jay Sobhraj awarded corporate responsibility award for philanthropic work and business accomplishments by GABPC - Guyanese american business professional council

October 2010
George Subraj honored by Shri Laksmi Narayan Mandir in Orlando Florida for contributions to extend the Mandir

September 2011
George Subraj honored by the president of the republic of Guyana, Bharat Jagdeo for his contribution toward the live-kidney transplantation projects in Guyana

January 2013
George Subraj recognized by GOPIO (Global Organization of People of Indian Origin) for outstanding community service to the people of USA and Guyana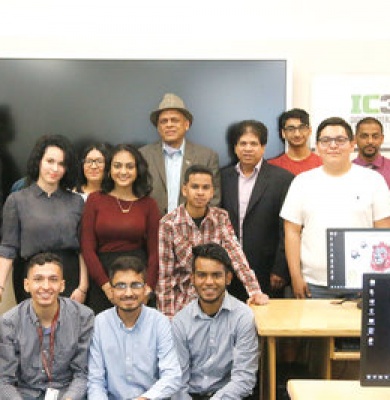 June 2017
ZARA Realty awarded college scholarships to 2 hardworking graduates of Richmond Hill High School.

Client Testimonials
I am a new tenant who recently moved in and I came here to leave a review specifically about the maintenance guys. When we moved in, we requested a few minor things be done. I'm happy to report that the guys who came did everything to our satisfaction within just a few hours. Amazing amazing service that definitely sets them apart from other apartment buildings. These guys are extremely polite and professional and they do really really good work. They even explained the work they were doing as they were doing it. Really incredible service! So that's it. Just wanted to put this in writing and let everyone know about them. THANK YOU!
Naresh G
December 2018
What an amazingly beautiful building this is. My GF lives here and I visit often. Aside from the fact that her apartment is huge and has really nice views, the hardwood floor makes you drool as they just have the perfect glossy finish. I am very impressed. On day I will move here. I just know it. I would pay any price to live in an apartment like this. Ok, I only say that because I know how much she pays lol. This apartment is a steal for the price she pays. Plus I feel like I know everyone who lives here. Everyone is so friendly. I'm not just talking about the residents. I'm talking about the office staff to the people who do repair work. It's like a community of its own. Everyone makes conversation with you and it's just a warm and friendly feeling being in this building. Incidentally, it also feels super secure. And that's really good to know, knowing that my GF lives here alone. If she ever had a doubt in here mind that this place doesn't feel as safe as she requires it to be, I'd make her move. I don't even care about breaking the lease. I'd just make her move. As to me, thats more important. But fortunately, very fortunately, she reports that it's the most secure she's ever felt living in an apartment building and I know she isn't lying because I get that vibe every time I visit and like I said I visit pretty often. If you are looking to move in this area, then I'd recommend them highly.
Zahir Y
December 2018
First off: Great spot, perfect location. Staff is beyond amazing. Maintenance crew rocks. I really like the maintenance guys. They're the real MVPS. They know what they're doing and take care of business as efficiently as humanly possible. They respond to your queries for repairs very quickly too. If you're looking for a great apartment building in a great neighborhood with amazing staff, then you need to do yourself a favor and check these guys out. We know we love it here. We actually moved here from out of state and the staff when we first moved in and had a lot of headaches, was really accommodating. And they gave us invaluable advice on where to buy household items in the area etc etc. Not only did they help us get a great apartment but they also helped us get the best out of the neighborhood which is priceless if you ask me. The recommendations they gave were awesome. Our transition was smooth and I'm still thankful to them to this day for that. ALSo, and this is important, I'm really really delighted that even though we're not new tenants anymore, the excellent customer service and great relationship we cultivated with them from the beginning, has not faded one bit. I love love love the restaurants in the area, especially the Indian restaurants nearby. Food is so affordable and DELICIOUS!!! That's one thing we never have to worry about, food. You know how it is in today's world. We're both working professionals and hardly do we get time to cook. It helps to know that there are tons of restaurants around us from which we can order if we so desire. And there are also lots of supermarkets nearby that have a wide array of fruits and vegetables that we absolutely love. I actually work in the real estate industry and I find myself in many different properties on a weekly basis and I have to tell you, Zara Realty truly stands out. I'm not sure whether it's the beautiful charming apartments or the people who run it, but it's definitely something. There's something about them that makes it all worth it.
Zameer K
December 2018
This building is all we ever wanted and more. MY husband and I always wanted to live in a quiet, serene area that would keep out the noise from traffic or neighbors etc. That has been made a reality for us open moving in here last year. Thanks guys. The management and maintenance team take a lot of pride in this building. You can quickly tell especially when you wake up early in the morning and realize those guys are already up taking care of their duties. My neighbors are mostly pleasant. Not gonna complain about that. My job is highly stressful so it's important that I come home to a nice and comfy place. You guys have made that happen for me so thank you from the bottom of my heart. I spent a long time trying to find a place like this btw. I always said I'd leave you guys a review but never did. But I had to, as you guys did me a huge favor with this apartment. I was a bit skeptical moving in at first but now that it's been over a year, I can say with confidence that if you're looking for a place to rent, give these guys a call.
Emma W
December 2018
This building is located at the perfect location with everything you can ever need surrounding it. There are literally hundreds of restaurants all within walking distance and you can take the subway to nearby neighborhoods for even more choices if you so desire. Also the bus stop is in front the building so yeah. Can't get much better than that. Having parking is also a plus for me. The apartments are new and I really love the beautiful hardwood floors. Hardly do we ever need anything repaired. I've had to request repairs once since I've been living here and it was a simple process. So you never have to worry about waiting forever for things to get fixed, if they ever have to get fixed at all. I personally would highly recommend living here. I used to live in another one of Zara's buildings back in the day. I had moved for personal reasons but once i moved I immediately regretted it once I realized how good I had it and how other landlords are not like this. A year later I moved back in with Zara at a different location and I haven't moved or even thought of moving since then. For our daughter, this is the only home she knows. We don't intend on moving out any time soon. It's a very family oriented building and I like the fact that management works hard to keep it that way. I can expect when my daughter gets home from school, there aren't people loitering around the building or anything like that. Also, we have a balcony and that's just icing on the cake. In the Summer time, that's where we hang out mostly. It's so serene being out there and enjoy the cool breeze and looking out at the world drinking a cold one. Don't think we ever want to move from here to be honest. The price for this area is more than affordable. Definitely worth checking them out if you are looking for a place.
Reshma K
December 2018
New Haven Place is a gorgeous apartment complex within walking distance of all the great restaurants in the Hempstead LI and the best part is that the apartments here ARE affordable. Not only are these apartments huge and gorgeous with some amazing views but the whole building itself is really really beautiful. The best part has got to be the office staff. They are really nice and they go the extra mile to make sure all the residents are well taken care of. I have never seen workers show this much dedication to a job! I would say give them a call now if you're looking for an apartment. I know I sounds like I work for them lol. But trust me, I don't. Besides, once you take a tour, you'll understand why they say these apartments sell themselves. This place is absolutely a one of a kind incredible find. And everyone is so friendly and energetic that it seeps over to you the tenant which frankly is really good for my mental health. We committed to our apartment about 2 hours after given a tour. The building is truly amazing and very well kept. Our apartment itself is gorgeous and like I said the staff is super friendly. If you're given an opportunity to live here, consider it a gift and just pack your things and move now.
Anita R
December 2018
This is great place to live. We have been living here for a while now and we just signed and renewed our lease and we never want to leave. The neighborhood is amazing and the office staff is extremely helpful to us. They bend over backward to get you the help that you need. That's what I like about them the most. They also try to accommodate your suggestions and resolve your issues as quickly as they possible can. Last summer, they held resident parties where they handed out free food and drinks and had music and face painting and the whole works. They also held a Halloween event that my kids went to. That was also loads of fun. The people who live here, I am happy to say are nice decent family people. They're kind and respectful and I have no problems with any of them
Mala M
December 2018
It's impossible to overstate how beautiful this building is. We knew we wanted to move here the moment we saw it, my bf and I. We toured many apartments in this area before we realized the obvious winner was Zara. From the moment we walked in, we knew. It wasn't that long after we toured Zara's apartments that we actually applied and got through. There's an amazing sense of community in their buildings that we love. The units are absolutely gorgeous with so much space, nice beautiful cabinets and just really well taken care of overall. Our particular unit is a huge upgrade from what we came from and still can't believe how much space we have even though at first glance it doesn't look like it's as spacious as it actually is. Our living room was perfect for the beautiful furniture and big screen TV that we bought. It matches it perfectly. The building itself is very well kept and the hallways are always shiny and smell clean. It sounds weird when I explain it but you gotta experience it to understand. But the most important thing in any apartment building you live in is the management team and the management team here is the best I've ever encountered, hands down. These people are some of the most genuine people you'll ever meet, and that's rare for business people in general. They're probably the single reason you should live here if you have to choose one. Everyone is so courteous and respectful. It's really a joy to experience. I honestly cannot picture myself living anywhere else. Thank you ZARA and thank you to the management team for making this place what it is. Keep it up!
Moses N
December 2018
I sometimes work from home and so it's really important for me that the apartment that I love in is nice and comfortable and to my liking. With that in mind, about 4 months ago, I decided to look for an apartment. I came across New Haven Place online and gave them a call. A tour was set up quickly and I was impressed by what I saw. I had a million questions which is normal for such a big move. They answered everything to my satisfaction and so I made the move and signed the lease. Like I said, it's been four months so I thought I'd come on here and leave a review. The lobby is great. I like that it is always kept really clean and has that homey feel to it. Also, everyone who work here seem really nice and friendly. So thumbs up for that. Maintenance crew work fast and they're very respectful. Thumbs up there also. I love the apartment itself. Big and spacious. Like lots and lots of room. Well it's just me who live here so that helps also. Love the new appliances in the kitchen too. They come in handy when I'm experimenting in the kitchen with cooking.
Hakim B
December 2018
The building is beyond amazing and the staff is definitely the big stander-outter here. I don't think I have ever lived in a place with so many helpful and courteous employees. Whoever is training these guys, you've done an excellent job. This is the level of customer service all renters should expect from their landlords, honestly. After all, we are their bread and butter. We are the customer. So it's really nice to see that the owners here truly understand that concept. My apartment is new and clean and yeah what can I say, the staff is always very responsive every single time I need them. I must have said that like three times but it's worth emphasizing.
Celia H
December 2018
This is without a doubt the best apartment I've ever lived in. I like the fact that all the ladies of the office staff know me by name and they are just so friendly and kind. I wish everyone was like them. It's really a great attitude to have. For any job. I use to live in three other apartment buildings before new haven place and I have to report that this is one of the best kept and is in the best shape. The area is really safe and it doesn't take long before the neighborhood starts feeling like home. At least it didn't take me long. You fit in pretty quickly and easily.
Dominic H
December 2018
WE LOVE ZARA APARTMENTS!!! WE ARE LIVING HERE NOW OVER 8 YEARS AND WE HAVE NO PROBLEM. OUR SUPER IS VERY GOOD GUY AND HE TREATS US LIKE WE ARE FAMILY. WE LIKE LIVING HERE. NICE APARTMENT. NO TROUBLE FROM NEIGHBORS AND MOST OF ALL, SHOPPING AND TRAINS VERY CLOSE BY. WE LOVE THIS NEIGHBORHOOD VERY MUCH. OUR KIDS GO TO SCHOOL HERE AND OUR KIDS BRING THEIR FRIENDS OVER TO OUR APARTMENT AND THEY PLAY. WE ARE ALWAYS VERY PROUD OF HOW NICE OUR APARTMENT LOOKS. IT IS VERY BIG. LOTS OF SPACE AND MY KIDS FRIENDS TELL THEIR PARENTS ABOUT HOW BIG OUR APARTMENT IS AND ONE OF THEM NOW LIVE WITH ZARA THANKS TO US. ZARA IS GOOD COMPANY AND GOOD PEOPLE
Aruna B
December 2018
Can I just say that this realty place is probably the best in the Jamaica Queens area? I say that because I started the day looking for an apartment and ended the day finding the perfect apartment for me. The agent that I contacted tried his best to make me feel at ease. You can tell he's experienced and knows what he's doing. He was very professional. The ease with which he walked me through the entire process and the clarity with which he explained everything left me feeling extremely confident. His advice was sound. It made sense from my perspective, which is what I cared about most. I made my decision about my apartment and do not regret it one bit. Thank again for that. The realty group is also great at what they do. They were quick at getting back to me and they're very patient. I must have asked a thousand questions easily. I highly recommend Zara realty for anyone seeking an apartment. MY apartment was affordable and I love it so far.
Allison A
December 2018
I used to live here and it was honestly the best apartment I've ever lived in. I remember our apartment being very well insulated and cozy. I know for a fact that even if we didn't have heat we'd be fine because of how well insulated the place was. Thank God that never happened though. We always had heat and air. Boy do I miss that place. We moved for personal reasons but they apartment building we live in now isn't close to what New Haven Place offered. We pay a little less now but honestly once our lease is up I 'm hoping to move back to New Haven Place. I regret moving. I don't remember ever having any maintenance issues because everything worked well and I remember the management being so humble. They treated us like family and was super accommodating. I'd definitely recommend here. It's actually one of the most reasonably priced apartment complexes in the area and its a great place to live!
Dev M
December 2018
Thank you Zara for throwing a tenant appreciation party for us. Honestly, you guys are the best. My kids really liked it and at least you guys try to make us happy. Our last landlord was not like this. This is why I appreciate it very much. I really like the coffee cups. I took two and my husband and I use them every morning. I know it's a small thing and it might not seem like a big deal to you guys but believe me, it means a lot to us. Thank you!
Alana M
December 2018
I found this place through Google reviews and now I'm here leaving a review because I want people to know. These guys are the best. Just straight up the best. Don't waste your time like I did to look elsewhere. Save yourself the hassle and rent with them. You can thank me later. Leasing was so easy. And the agents don't disappear once you move in like other places. They become your buddy once you move in. Haha. Love them. When I was looking at apartments here I heard stories about how the Super knows everyone's name. and honestly I thought it was a gimmick. I thought maybe he just knew everyone's name for show and he couldn't possibly be that awesome. But nope. I was wrong. once you live here you quickly realize he is a people's person. He was made for this job and he is AWESOME!! Every time I see him, he puts a smile on my face :)
Anil K
December 2018
I used to lived in a studio apartment in this building for four years. The apartment was on the 4th floor. I still remember It like it was yesterday. It was my first apartment in Queens and it was an excellent deal since it was below market rate with reasonable and sometimes no increases every year. The building was really cool and charming, and my apartment had very a high ceiling which I really liked. It was in an excellent neighborhood that was always improving. I was there recently again and it's 10 times nicer now. It's become a sort of cultural hub. Considering how close this apartment building is to the park and that the subway is a block away, the location is really good. I'm getting nostalgic thinking about it. Don't know why I moved. Anyway, recommend them highly.
Stephanie K
December 2018
I absolutely love my apartment and would highly recommend to anyone looking to live in the Queens NY area. I have lived here for a really long time and I just happily renewed my lease. I have to mention that the building itself is gorgeous and they're always upgrading which is appreciated highly. When you combine the beautiful building, the amazing staff and the diverse neighborhood, this place is unmatched. It can't get any better than this. I'll tell you that right now. You can do your own research but I assure you you will come to the same conclusion. Also, if you want, try living at other apartment buildings. Most people are not gonna say that. But I'm gonna say it. Live at other apartment buildings because only then you will come to appreciate how nice the people at zara are. Any issues you have are addressed promptly and professionally. I have lived in multiple other apartments before, including really high end ones. And the management there was nowhere as professional and compassionate as the folks at Zara are. The service and overall professionalism is impeccable and I really appreciate the Zara team. Keep doing what you do. Even though my rent went up a little recently, I did not mind because of the way we get treated here. I re-signed and renewed my lease without hesitation.
Jason D
December 2018
Would highly recommend this place to anyone looking to live in LI. Beautiful views, incredible amenities, friendly staff! It's the whole package when you move in. We moved here about week ago (week ago) and we honestly already feel at ease and at home. They do an amazing job at keeping the building fresh and clean and just well maintained overall. The office staff has been nothing short of a godsend! They were incredible even before we moved in and now that we've moved in they continue to be the same way which is good to know. They make sure we feel comfortable and that nothing bothers us. Everything is a breeze with them and that peace of mind is actually priceless in my opinion. You won't regret moving here. Take it from me! Our apartment is gorgeous and we couldn't ask for more civil neighbors. They are super respectful and quiet. You can just sense that a culture of community and respect has taken root here because it is displayed throughout the building.
Alvin N
December 2018
Earlier last year, I was eagerly searching for a place I could plant some roots and so I had spent one entire weekend looking online for a place. That's when I came across New Haven Place on Google. So now that I have moved in , I'd like to leave a review of my own to help other people who might be in the same position I was in when I first was looking for a place. Before I found New Haven Place,I ran into about 5 Craiglist scams (renters beware) and charming apartments with no ac or heat or parking and a few exorbitantly over priced apartments. What I'm trying to say is, I got lucky and found the perfect place to live with New Haven Place. When I was first moving in, I remember being greeted happily by everyone and that added to my excitement as I knew I had finally found a place after a long and exhausting search. I was really eager to just sign the lease and move in. But they didn't exploit my excitement. They made sure I read and understood everything and answered all my questions with patience and unmatched professionalism, which I really respect about them. It's been over a year since I've moved in and I gotta say every day I love this place more and more. I just can't have enough. Coffee shops and restaurants are countless and nearby and I love that because I love coffee and I love food. haha. The building is very very secure, which is comforting being a single woman, living alone you know? Although the neighborhood is super safe and I ahem never encountered any issues regarding safety, it is still comforting know that I live in a super secure building. The staff here is a pleasure to work with. They greet you and answer all your questions and explain everything to you in detail. They really know what they're doing. And they are available for anything you might need help with. This place is a gem, plain and simple.
Gaitrie S
December 2018
I have been living here for about three months now and I could not be any happier. First of all, New Haven Place is a Zara Realty company. I know this because i used to live at one of their buildings in Queens. And the Zara Realty brand is synonymous with luxury and great customer service. So from that alone, I knew I was doing the right thing. I wanted that same good customer service and beautiful apartments but wanted to live in Long Island and that's how I ended up here. This place is a slam dunk once you compare it to all the other apartment complexes around here. The reason is simple: The office staff is like family. They are truly responsible for me feeling the way I feel. I feel like this is my forever home and they look and sound like they will do anything possible to ensure I am happy and comfortable. I really appreciate that. The entire building is just an architectural marvel to look at. You can tell that a lot of thought has been put into the construction of this building. For the price you pay here, you will not find a better apartment in this area. I would recommend you step in and ask for a tour if you're in the market for an apartment.
Brian O
December 2018
I like that my building is pretty close to where I work (i work in the Jamaica Queens area) and that York college is like walking distance. As a working student, the location and proximity is what matters most to me. I've never really had a problem with anything else here. The lobby area is well lit and decorated. I always feel safe. I feel like the landlord is very much involved in the community and always hosting events for the tenants. That's a great thing in my opinion. I don't really see anyone else doing that. I mean people can say what they want but at the end of the day, they don't have to do that. But they do. I have yet to go to any of the events because I've been busy with school and work but many of my neighbors in the building have gone and from what they've explained, it sounds like fun. They charge for nothing apparently and give away food and drinks and gifts. That's wassup. I like that about them. I live here with my girlfriend. I hope to spend at least another 10 years here.
Troy K
December 2018
Zara is simply the best place I have ever lived in. And the reason for this is simple - they listen and take care of you as a customer. I give full credit to the office staff and management for this. they do everything they're supposed to do including making sure the lace is clean, safe, comfortable but they also go above and beyond to make sure you have the best experience living with them. That's a smart strategy if you ask me. Spend a few more dollars than your competition and your customers will love you for it. I don't know if they specifically planned it like that but I can tell that it's working in their favor as everyone says great things about them. You can tell the time and effort and all the hard work they put in even before you walk in the door. Everything is super shiny and clean. The garden in the front of the building is so immaculately maintained. The guys are out there early in the morning making sure everything is clean and well kept. Love that about them. It's no secret that they are hard workers. Then everything is always decorated during the holidays and now that it's coming on to Christmas, the lobby area is sooooo beautifully decorated. Also cant wait to see what events they will be having for us. Yes I have come to expect this. lol..They've spoiled me in that regard. Everything at the events is free which is crazy when you think about it. They always make sure all your needs and concerns are addressed, even at their events they hear you out and what you have to say and they'll work with you to solve your problems. Here's something you wouldn't hear from a tenant every day. I totally get how hard it must be sometimes for landlords. Sometimes you have to be able to put yourselves in other people shoes to have a great relationship with them. I would assume that they are treated badly sometimes by assholes who rent from them. But here's the thing: you can never tell that they get treated badly because they always have a smile on their face and warm words of welcome and praise for you. They are also really quick to repair things and respond to your emails in a timely manner. It's not uncommon to see the maintenance crew cleaning the lobby and vacuuming throughout the building. It's clear to see that they are humble guys and they really and truly care about the people who live in the building!!
Yannick V
December 2018
There's so much so say about my experience with Zara and the management team that I don't know where to start. First of all let's get this out the way if didn't know already: The apartments are of top notch quality. They're luxurious and the building is impeccably maintained. It's just absolutely perfect. If you don't like busy neighborhoods, this isn't the neighborhood for you. But I love the hustle and bustle of this neighborhood. There are so many restaurants, ice creams shops, food courts and it's just a blessing having all these conveniences nearby. I've lived here for about 10 months now and it's just been perfect. The apartment is great. The location is superb. My daughter can walk to York college if she wanted to which is very convenient. In fact, sometimes she does just that. The staff is always so helpful and look after your requests with urgency and professionalism. I would recommend Zara to anyone looking for an apartment in Queens. The thing is, I can't think of one time when they let me down. They've been consistently impressive with the way they do business and they have always treated us with kindness and professionalism. Best location in Queens if you ask me. The prices are really good for these kinds of apartment and it's perfect if you have a family. Would gladly recommend them to anyone.
Yvette J
December 2018
Zara realty has proven to be an amazing place to live. MY boyfriend and I have been living here a few months now, one bedroom one bathroom and it is just the perfect place for us right now. You know what they say? location location location. This area is a gold mine of cultural and culinary experiences. That's the most important thing that makes it great in my opinion.
Alicia M
December 2018
When we lived here, we were actually thinking of not buying a house and staying here forever because of how nice the building was and how respectful and cool management was to us. It was such an incredible experience for us and truly theist apartment we had ever lived in bar none. Everyone from the maintenance crew up to management were really nice and warm and friendly. There were times when we needed closet doors fixed or other minor repairs done and they would be there so quickly and would be done within minutes. The absolutely care about the building and the tenants and they did and are still doing a great job running this place. I was there recently again because a friend of mine recently moves in due to my recommendation (thank you very much) and wow, I see they have done some upgrades. The building looks cray good and all of the apartments have been remodeled with granite countertops, and stainless steel appliances. At least that's what I was told, and saw first hand at my friend's apartment. It looks really good to be honest. We have always had a great relationship with the management and staff here and hope to continue doing so. You never know when you might need a place to stay one day. Highly recommend.
Chris G
December 2018
I am highly satisfied with this property management, they really exceeded our expectations of finding a great home. I immediately felt comfortable and assured with their approach. Everything they promised was delivered. The staff was efficient and professional each time I need their assistance. Thank you for providing great service to us.
Mildred W
December 2018
If there's one thing I would like to say, it is this - I love living here. The office staff goes out of their way to get your requests done. That's what stands out about Zara Realty for me. Your voice never goes unheard. You have a complaint or concern, you let them know and you can rest assured they'll address it. The problem comes when you have a problem but don't wanna do what it takes to address it. I can say that all my concerns have ben addressed and I am pretty content living here. I am living in a one bedroom apartment with my husband and I Can't put it any other way - out apartment is perfect for us. The place is just gorgeous and we feel super safe and everyone's extra friendly. I moved here since August of 2014. How time flies! The staff is so welcoming and whenever i need repairs done or anything they're there like so quickly. Sometimes I gotta let them know that it's really not that urgent…lol..but hey I'm not gonna complain. They just pop in and pop out and voila repairs are done. Location wise, it's in the heart of Jamaica where there's so much diversity in people and food that the rent should be way higher than it is, truth be told. Anyway, again, I'm not complaining. Really love all the restaurants and bars that are just walk away from me. Love love love staying here and its worth every penny.
Stephen P
December 2018
Honestly, if this is in your price range and you are looking to live in Hempstead Long Island, do yourself a favor and move here immediately. I recommend this place 100%. You're not gonna find better than this. I've lived here for more than a year and I've been nothing short of blown away by their service. I'll tell you this right now, if you've made up your mind about moving here, you better hurry because the amount of people living here now, I'll be damned if they're not at full capacity right now. The staff is attentive, friendly and helpful. Any request for repairs, no matter how small, is handled promptly. I've had about 2 issues with repairs so far, which in my experience is really really good. the community here stays connected and there are many events that they hold that tenants attend and bond with each other. I try to go to as many as possible as it's a great opportunity to meet with neighbors and the guys who take care of the building. Besides that, the food is usually really good and so I recommend going anyway. I have read countless reviews about other apartment complexes when I was looking for an apartment and most of the negative reviews centered around bad neighbors. I'm happy to say I have yet to encounter any bad people who live in this building. If they exist, I am yet to meet them or hear of them. I have met zero obnoxious people and have not had to put up with noise or anything of that sort which I hear is a blessing in apartment buildings generally speaking. My apartment itself is really well constructed and beautiful. All of the finishes everywhere is gorgeous especially in the living room and kitchen and the shower is fantastic. Everything is brand new when you move in. What more can you ask for? All the nice restaurants are close by and the price for an apartment here is reasonable in my opinion
Bhevani R
December 2018
This building is a reasonable walking distance from everything you can ever need living at an apartment. All the best grocery stores are like blocks away. The subway is literally at your doorstep. The neighborhood is always busy and feels safe and where we live is right next to a park. The bus stop and the subway is right by the front door. What can i say about the building itself? Not much to talk about except that it's always well lit, maintained and updated. In fact, it's the brightest building I can think of in my neighborhood. That's a good thing as it keeps unwanted individuals from hanging in front of the building like I see at other apartment buildings. The office staff is super friendly and the maintenance crew is amazing. Laundry room is pretty spacious and has more than enough machines. Residents are friendly as well. That can make all the difference sometimes. I truly love this place as it meets all the criteria we had when we were looking for an apartment building in the first place and nothing has changed about that fact. Also, the price is affordable. That was also a big deal for us. We're able to put away money to save after paying all our bills. I'm trying to remember the whole process of moving in and what the details but it was so long ago that I really can't. All remember was that it was smooth. No hiccups or anything. That's how i imagined it would be but i read other reviews from other apartment buildings with bad experiences so I guess I took that for granted. All around, we've been very happy here. Not gonna lie. The community is great. For the price we pay, I see it as we're lucky as there are so many bonuses like being close to the train, comfortable and spacious apartment to entertain guests, not having to leave the building to do laundry. These are all things I've taken for granted but upon reflection, they're really added bonuses. I recommend Zara Realty if you're looking for a place that's comfortable and quiet and close to all the subways and buses. It's perfect for that. Plus all the schools are nearby.
Trishina L
December 2018
Excellent property management team, doing an excellent job. Staff always friendly, hardworking and accommodating, and want what is best for the tenants
Manning P
December 2018
They did an excellent job in finding us a house. They worked with us; answered all of our questions answered in a timely and professional manner. I will recommend them to anyone house hunting in the Jamaica area.
Janet W
December 2018
Great management and Staff. real easy to work with and show they care about the tenants and the buildings.
Gabriel S
December 2018
Their staff was extremely professional and courteous. Any issues that arise have been promptly addressed to my satisfaction. Great customer service feels like that I am their top priority.
Claire C
December 2018
I MOVED IN ON 11/11/2018 AND JUST LOVE MY APT AND ALL THE AMENITIES, TERRACE, LAUNDRY ROOM NEXT DOOR, ALL BRAND NEW STAINLESS STEEL APPLIANCES. IN ADDITION, MY APT IS ON THE EAST WHERE THE SUN RISES AND LIGHTS UP MY ENTIRE APT AND I DON'T HAVE TO USE ELECTRICITY DURING THE DAY AND I SAVE ON ENERGY LOL. CAN'T THANK ZARA REALITY ENOUGH. THANKS!!!!!!!!!!!!!!!!!!!!!!!!!!!
Richard H
November 2018
They were immediate responding to all of my maintenance requests. Also, the staff was very knowledgeable and patient answering all of our questions. Great Service
Marylou H
November 2018
Love doing business with Zara Realty. The staff is great, always friendly, helpful and on top of everything. They all work tirelessly to maintain a high standard for all buildings.
Christopher K
November 2018
The thing that has shocked me the most about New haven Place is that everyone is so freaking nice. I don't know if it's the staff or the nice amenities or the shininess of the building or i don't know what else, but the whole atmosphere and surroundings is so homey and I just love it. If you're reading this and are looking for a cozy place to call home and want to be in the company of genuinely nice people who are in it for all the right reasons, the New Haven Place is where it's at
Elaine D
November 2018
They recently held a Halloween party here for us. That blew me away. I know they hold these annual tenant events and other social events but for some reason, this Halloween event caught me off guard, even though there were flyers all over announcing it. lol..We have lived here for over two years and loved it! I mean..all the other residents are respectful. Never really had a problem worth reporting here. Mostly minor stuff and even then it wasn't their fault. It is in an amazing location, and the rent is fair. That much I can say. My favorite part though is the annual resident appreciation parties and other social events! It is a great chance to meet and mingle with other residents who live in the apartment. I would highly recommend New Haven Place to anyone looking to move to Long Island!
Subrina I
November 2018
Been doing business with Zara for over 3 years. I highly recommend them. They are very friendly and helpful, and a joy to work with. Looking forward with our ongoing relationship.
Mike S
November 2018
Thank you, Zara Realty, for everything done to make my life easier! From answering all of my questions to timely communication, it is very much appreciated. I have been beyond happy with the service provided me throughout the period that I'm renting.
Neva M
November 2018
Their management team is very prompt to respond to maintenance request and system paying for rent was consistent.
Ruthie F
November 2018
I have found the entire team to be very understanding and a pleasure to deal with. The communication levels are exceptional, they are willing to discuss any issues that arise a rectify in a prompt and professional manner
Everett M
November 2018
I like living here. The office staff is goes out of their way to get your requests done. That's what stands out about New Haven Place for me. Your voice never goes unheard. You have a complaint or concern, you let them now and you can rest assured they'll address it. The problem comes when you have a problem but don't wanna do what it takes to address it. I can say that all my concerns have been addressed and I am pretty content living here. I share a one bedroom apartment here with my wife and my apartment is perfect for us
John S
November 2018
I wanted to say thank you so much for your professionalism and communication throughout the entire process- very much appreciated and we were very happy with our new rental home.
Dianne B
November 2018
Absolute professionals! We received excellent service from them and show a sincere willingness to assist with our property needs. Helped us with the renting processing the requirements needed and all of our questions were answered clearly. The rental property that they introduced to us was spacious and perfect for a family of 4. Very satisfied with it! I would recommend them to anyone who is looking for a good property to rent.
Michael T
November 2018
They have made renting with them a great experience. They were so professional and responsive. We felt all the issues we have was dealt with quickly and professionally
Ila C
November 2018
I lived in a Zara Realty building for many years. Awesome apartments! Well kept and maintained. I'd recommend Zara to anyone, anytime.
Mohamed H
October 2018
Rented a place from Zara's Realty and I cannot say enough great things about this company. The team were accessible and very helpful throughout the entire process of looking for a place to rent. I would recommend them without hesitation. Thank you so much!
Aaron Stevens
October 2018
The agents of Zara Realty are very professional with good work ethics. They were very helpful; guided us every step of the renting process and find an apartment that suits to my needs and budget. I will refer it to anyone planning renting a home.
Robert L
October 2018
The experience at Zara has been nothing short of amazing. Glossy wooden floors. Impeccable stainless steel appliances. Humungous rooms. We have ZERO regrets about renting here. Our Super is a really nice guy. He responds to our concerns as quickly as he can. On certain occasions, I wish he would be quicker but I know that's just us being a little unreasonable. I speak to friends who rent at other places and they say our Super's response time is really fast so I'm not gonna complain about that. We're up on the 11th floor and the view of Queens from up there is craaaaazzzzzzyyyyy. It's Queens like you've never seen it before. Whenever we have visitors, it's always fun to watch their reactions during sunset. Everyone is blown away. I guess we lucked out with this apartment.
Mark S
October 2018
Zara is THE place to live. I've lived here for ten years. Before Zara took over the building, it was a complete mess. The previous landlord was unable to upkeep the building's maintainence. But all of that has changed after it was taken over by Zara Realty, where the building has now become a safe haven to live. From the old to the new, I now have stainless steel appliances, polished wooden floors to walk on and best of all, a great building supervisor who is courteous and looks out for the residents. Thank you to the Zara Realty team for making my apartment the best and luxurious one to live in!
Jeff P
October 2018
Absolutely the best! They helped me find a great place to rent and also received a superb customer service. Found an apartment within a week. Moved right away. I highly recommend them!
Misti P
October 2018
Zara Realty has really helpful employees. Got all my questions and requests answered right away. Their accounts payable team is the absolute best because they were able to help me resolved some issues with old invoices once it was brought to their attention. I can assure anyone 100% that if my concerns were brought up sooner, they would've been resolved just as quickly. Having such helpful employees as part of their team is what every business needs to be successful
Kim K
October 2018
We just started renting with Zara Realty a few weeks ago. The real estate agents are super super friendly and the process was way smoother than we expected. Everything and I mean everything is laid out to you in detail and never did we feel like we were being sold something. We were in charge of the process the entire time. They weren't like other agents we've met who try to force their vision of a perfect apartment on you. These people plainly told us what they have to offer and let us decide for ourselves the entire time. Plus they were there when we needed guidance or had questions about the apartments or prices etc. Look, the truth is that there are hundreds of realty places around, especially in the Queens NY area. So you can go anywhere you like. But we're glad we chose here because of the peace of mind we now enjoy. Our apartment is exactly what we wanted and is the most beautiful apartment we've seen since we've been looking for an apartment
Amit M
October 2018
The entire team were exceptional from start to finish in providing us a place to rent that within my budget and showed us exactly what we wanted. The team is great to work with, very responsive and extremely professional. I can't say enough good things about this company. I would like to thank you all for an enormous experience and for providing us the best customer service as much as possible. I highly recommend them!
Lorean R
October 2018
We are very pleased with the quality of service that they provided us. Renting with them is like renting with a family, they very concern about our needs. We also appreciate their responsiveness every time we have anything questions and concern. I highly recommend them because of our satisfaction with their service provided to us.
Martena P
October 2018
Zara Realty is a pleasure to deal with. Rishaad is very professional, and replies to my email queries right away. I deal with many companies during the course of my day, and Zara is one of the best to work with!
Tammy S
October 2018
I HAVE BEEN DEALING WITH THIS COMPANY FOR A FEW YEARS NOW, THEY HAVE BEEN HELPFUL WHEN HELP WAS NEEDED AND REALLY KNOW THEIR STUFF WHEN IT CAME TO REPAIRS FOR THE VARIOUS TASKS AT HAND. I FOR ONE AM VERY GREATFUL.
Hercules K
October 2018
We heard about Zara Realty from a friend of mine who's renting there. Decided to give them a call. Before you know it, we were given a tour of the apartments. That same day we signed up. We were simply blown away by how big and beautiful every single apartment was. Prices are way less than what you'd expect for apartments of this caliber.
Anil T
October 2018
Can't say for sure yet how the service is. A bit too early. We just signed up for a new apartment. So far it's been great. Will check back in and leave another review in a few months.
Dean S
October 2018
Zara thanks for tenant appreciation party. Very nice. My husband had good time. Food was good. My kids love the superman and the superwoman super heroes and the face painting and the cotton candy. The music was good and the food was delicious. I didn't win prize this year but next year hopefully. Thank u.
Reihana A
October 2018
Gotta say, these guys really know the industry. I'm not renting with them currently but I was a tenant up until last year, when I became a home owner. Funny story about that but I'll leave that for another time. My apartment was huge. Honestly the biggest I've seen in all my years of renting, and boy did we rent a lot. We moved from apartment building to apartment building until we settled at Zara. Like a previous reviewer said, it's the peace of mind that makes it all worth it. You get exactly what you want and they're pretty flexible with the price. Trust me you're not gonna find better prices for those apartments. We did our homework and looked for years. I definitely recommend them to anyone looking for an apartment.
Ashley Y
October 2018
The staff is amazing here. The maintenance and office staff respond quickly and professionally. There's never a time that they see us and don't greet us. The hallways, the lobby, and the yard are spic and span because of our super.
Mike F
October 2018
I moved here because I have a bunch of family members who live here and they all say great things about New Haven Place. When I first moved in, I was a little nervous I'm not gonna lie. It's always difficult leaving from one home to a next. But now it's been 5 plus years and I love it here. The quietness of the place is what I love about it the most. My previous apartment building was full of noisy tenant which I hated with a passion. I like reading and enjoying time by myself. It's helpful if your neighbors and the place you live in is quiet. That is one thing I can't complain about here. The super here is great. He's been resourceful and kind from day one. I think it is the best decision I ever made moving here. Will continue to recommend this place to anyone looking for an apartment.
James M
October 2018
Zara Realty is amazing at what they do. Really beautiful apartments with prices you'll find nowhere else. I've been living here for a while now and i got everything I need. All the supermarkets are nearby. Trains are a block away and buses are everywhere. I could not have chosen a better location. My apartment is nice and the floors are really really nice. My Super is very good to us and we really appreciate him. The office staff is also really nice and courteous. I have been recommending Zara to all my friends and family ever since I moved in.
Shellie P
October 2018
They are been amazing... I'm so super impressed with them. They were so professional and helpful throughout the entire rental process.
Judith C
October 2018
The team is very communicative, friendly and we are always met with a smile. Helped us to rent a home every step. Thank you!
Nelly L
October 2018
We had an amazing experience finding a home through Zara Realty. Very impressed with the service received, they were so helpful and friendly. The realtor would even go beyond and above to get us in last minute and help us with lease signing. The whole process was so smooth and prompt. We were very with the place we had now. Couldn't be more happier!
Eva N
September 2018
Thank you so much with the agents who helped me finding a perfect apartment, they absolutely exceeded all my expectations. "Their service was really fantastic". I'm very happy with my new apartment. I'll recommend to anyone I know looking for a good apartment.
Kristy E
September 2018
Hi, my boyfriend and I had to leave our previous apartment due to our previous landlord being a horrible person. One day as I was going to work I saw the Zara sign that said apartments for rent. I thank the Lord to this day for allowing me to call them. They have helped me in ways you cannot imagine. Most landlords do not have the compassion and the kindness of these people. If other landlords like them exist, I have yet to encounter them. These guys literally listened to my cries and helped me at a time when most would probably exploit my sorrow. I can't recommend them enough. Thank you guys for all you've done for me. It means the world to me. This is my payback to you. Everyone needs to know about who you guys truly are. Hope to keep the great relationship going
Subrina I
September 2018
I am extremely satisfied with the level of service they offered. I am so lucky that I rented from them. All my needs as a tenant are given by this company. Thank you for giving a good service.
Janet S
September 2018
Amazing place to live. Truly luxurious. Will be renewing my lease once it's up
Irshaad I
September 2018
For almost a year renting from them, I have not even a single complaint with their service because they always provide good service to us, if I have anything questions and concerns, they were very responsive and treated us like a part of their family. Huge thanks to all of you and wish you all the best.
Ryan S
September 2018
I would like to thank everyone from Zara Real Estate for helping us look for a great place to live. I can honestly say that Zara Realty is really amazing! Fastest service I ever dealt with, the realtors were very professional and always ready help with any of your concerns. The process was really quick and went very smoothly. I am very happy that I found this firm and I would recommend them to anyone without hesitation at all!
Jo W
September 2018
I would like to thank this property management for providing us a great service. We so much enjoy living in their apartment. - The property Mgt. are always helpful during our stay at their apt. - They were so professional and responsive, every time we had any questions and concerns and very attentive to our needs. I'm so thankful to them that they gave us a great service throughout the year of staying with them. Thank you, Zara.
Elena E
September 2018
My kids loved the backpacks you guys recently gave away at your Hillside office. We got there early because we knew the lines would be long. You guys did a pretty good job moving that line along too btw. Anyway, I'm thankful for the backpacks because the money I would have spent on two school bags, I used for other essentials. The backpacks are really high quality too.
Timothy A
September 2018
Thanks to the team of Zara Realty. They were very helpful, professional, knowledgeable and dependable. All went above and beyond helping us go through the renting procedures more enduring. I'm very grateful for all your help making this transition easier.
Latrice D
August 2018
Couldn't be more pleased with the service provided by agents of Zara Realty. I've always been a renter and this company was a top on my list, if I have any questions or concerns, they are always addressed immediately. The house we rented was in beautiful condition at move in time. I'm able to handle everything through their site – payments, repairs and everything etc. etc. I'm extremely happy with everything. Thank you very much and I really appreciate everyone at Zara.
Coleen C
August 2018
Zara Realty Property Management has been very friendly, polite and professional since day one. Got a great apartment to rent in a very good cost. I'd definitely recommend renting from them if you're looking for a good place to rent in a very affordable cost.
Robert N
July 2018
I am very happy with their affordable rates and even more so with their excellent service. If you're looking for good property to rent. I would definitely recommend Zara Realty. You'll not be disappointed.
Salazar D
July 2018
We moved into our new home managed by Zara Realty and they were amazing. They had our application processed and approved quickly, we were also able to get an incredibly fair price on rent. Since moving in they have been great at responding to calls, e-mails and questions in timely manner.
Ruby J
July 2018
This property management really know their business. It's great dealing with them, if you're looking for a home to rent. We have a good line of communication. I really have no complaints with them, and would recommend them to anyone who help them to find a good home to rent.
Troy K
June 2018
They were extremely prompt and professional with their communication and on a personal level they are very pleasant to deal with. Like some of the other property management we deal before we have had problems arising and I am very grateful for their help in resolving issues we had. I feel they have made our lives easier and we have someone available at all times should we need them.
Flossie B
June 2018
Our needs of a home were very specific but they do their very best and worked tirelessly to get the meet our needs of a home. I'd highly recommend them to tenants looking for a home that will fit to their needs.
Steven B
June 2018
They are wonderful! They were very helpful to me and my partner finding a rental as soon as possible, would definitely recommend them to anyone. Very professional, friendly and they really took pride in what they does, give happiness and satisfaction to their clients and tenants.
Andria B
May 2018
They were so nice, professional and compassionate, they found the perfect home for us. They really had a big heart; goes extra mile to accommodate your needs. -Communicates very promptly and professionally. This, combined with high quality homes available, made my urgent relocation to Jamaica a breeze! I'm very happy and grateful that I found them.
Lindsay G
May 2018
They helped me find apartments based on my needs, budget, and preferred areas that I wanted to live. In some time I thought I was asking them too much for different options but it was no issue with them. They provided the information immediately and for all the times I asked. Thanks , Zara Realty team for all the help.
Ellie D
May 2018
Nothing but the best property management that I've dealt with. Living in their apartment for 6 months, if we have some issues or problems, they're very quick to respond and find a quick solution, also very patient answering many questions I had. I'd no doubt to recommend them to others. Good apt, good service.
Daniel L
April 2018
They were far the best real property management company we ever dealt with. They guide us every step of the way of renting a home and helped us with all the paper works needed. The process of renting was easy and stress-free. Very professional! I would not hesitate to recommend them.
Chennelie P
April 2018
They consistently strive hard to serve their tenants by providing good quality service and satisfaction. It's really great working with them if you're finding a right place
Aumoe C
April 2018
Amazing people to work with. Highly recommended.
Jair C
March 2018
My family and I was very satisfied with the service we received from Zara Realty. The staffs were very professional, easy to work with, polite and very friendly. They were able to help us find a new place to stay at a competitive price. I also appreciate them for being responsive to my inquiries and I would like to thank them for everything!
Irene M
March 2018
I was never been disappointed we hired Zara Realty for helping us to look for a new place. I found them through a recommendation of a close friend of ours and we were totally satisfied with the service they provided. It was prompt and it was very convenient! They were able to help us look for a new place in the same day I called them. The house we rented looks great, it was very spacious and the price was reasonable. Absolutely love to recommend them!
Dianna W
March 2018
I recently rented a new place from Zara Realty and I can honestly say I am completely satisfied with the service I got from them! The agents were very friendly, reliable, professional and they were always ready to help. I also appreciate them for being very quick to respond specially to my calls and emails. They gave me a pretty nice deal to my place and definitely love to recommend them to anyone looking for a place to stay.
Angie H
March 2018
As a first time renters Zara Realty has been a great help to us. The place that they show us was spacious, nice and affordable. They also helped us with the step by step process of our application. They were very responsive too. I highly recommend Zara Realty for your apartment needs in the area
Kate Z
February 2018
I would definitely recommend Zara Realty to all of my friends. After searching for apartments that fits my budget, Zara Realty agents really helped me to look for the right apartment that I will be staying too. After a week we were already signing a leasing contract. They have an awesome customer service.
Shawna M
February 2018
We had a great experience with Zara Realty. They showed us great apartment and worked hard to get the management to a price that we could afford. It was a friendly neighborhood business with amazing employees. Paperwork was seamless that requires a little effort from us. Thanks Zara Realty for the big help in attaining this apartment.
Susan P
February 2018
Went to check out a studio..everyone was so nice, Noveesha was awesome!.Looking forward to moving in soon
Lisa F
January 2018
I had a wonderful stay at their rental home. Neighbors are good and the staff were very professional & accommodating; any concern and questions I had, answered it with clear explanations and I also request maintenance with them and taken care in a timely manner. Thank you for the great service, Zara Realty!
Margaret T
January 2018
Had a wonderful experience with them. They made my apartment search for January way easier and enjoyable. Thank you! :)
Joyce F
January 2018
I'm glad that I've an appointment with Zara Realty. They made my apartment hunting smooth, easy and stress-free. They were very professional & helpful throughout the finding process of an apartment. And answered our many questions, patiently. Also helped us process necessary papers that needed. Overall, it was a very pleasant and un-stressful experience - if you are new to town or simply don't want to make apartment hunting your full-time work, and simply go with them &they will likely set you up with something you like
Margaret S
January 2018
They had a great communication with us from the beginning to end. We enjoyed our experience working with them throughout the process and we are grateful for their help in finding the perfect place for us.
Keshia R
December 2017
I had a good experience searching for my first apartment with Zara Realty Agents. They are really amazing. Finding a perfect apartment is not an easy task. Well Zara Realty team takes the crazy horrifying nature of apartment hunting and makes it fun and accommodating. Trust me, I hate hunting for places and w/them it was a breeze. They really found a perfect apartment for me that suited to my needs. They've been an absolute pleasure to work with and I'll definitely recommend to others who need them.
Julie V
December 2017
The agents of Zara Realty helped me tremendously in finding an apartment. They were very responsive, very understanding to your situation, courteous and mindful of your needs, and gave some good options for you. They found an apartment that was really perfect for me. They are really outstanding. I highly recommend even if you know which area you would like to live. This company saved you money & time.
Donna H
December 2017
I've worked with real estate agents before, but never one as professional, organized & patient as agents of Zara Realty. I spent searching a perfect apartment with them, they not only took the time to schedule a wide range of listings across Jamaica, but they also took the time to get to know me as individual; my taste and expectations. Throughout the showings I felt like I'm hanging with close friends, they're very fun, comfortable to be with them and every time I have any questions no awkward feeling. I'm so glad that we ended up getting an apartment with them. Happy with my new rented apartment, it surpassed my expectations. Overall, it was a superb experience.
Vinita A
November 2017
Very clean; apartments are spacious; the intake staff were very knowledgeable and professional. Very patient in helping with the selection process. There are lots of rules but as long as we all abide everything is alright. (Dave was my broker and he was a gentleman)
Rosalyn J
November 2017
I really enjoyed my experience with Zara Realty. The agents of Zara were a pleasure to be around and showed me a variety of options well within my budget. They helped me to find a home to rent at a great price. They were also very responsive to emails/text messages and had every appointment organize, which made the search easy. Very happy with the outcome and would definitely recommend them.
Charlena V
November 2017
We had a wonderful experience with the Zara Real team! They were very knowledgeable, passionate, accessible and easy going. At every step, they made sure we were comfortable and well informed, promptly answering our (many) questions and clearly explaining our next steps on renting a home. Being guided by such a skilled and experienced team made the process of looking for a home to rent exciting and stress-free. Thanks, Zara Realty Team!
Mozelle C
November 2017
We rented a home from Zara Realty and they're wonderful. – Very accommodating and Professional! It was a quick and painless rental. The house we rented from them was beautiful and suits for us. I highly recommend them to anyone who is looking for a home to rent.
Jane W
October 2017
Best experience as a renter, George was very kind. Helped me thru my process, and expedited my furniture for me 5 stars!
Sean R
October 2017
They were very professional & flexible, and really cared about our needs of a home. Finding a home was so easy and stress-free. Application process was hassle-free. Got a home to rent so fast. I'd recommend Zara Realty who is looking for a good home to rent. Overall, a positive experience.
Carra C
October 2017
I recently rented a home from them and the agents are very friendly, accommodating and helpful. They were very great agents to work with, great in keeping in touch with me & provided update on my rental application. So happy renting with them and happy with the house rented. I would definitely recommend them to others.
Renee H
September 2017
Had a wonderful experience working with them on finding a home; they were very flexible, honest & really cared about our needs of a home. They have shown 10 vacant apt. That suits for our needs. Overall, a very professional and comfortable experience
Vladimir C
September 2017
With Zara Realty you don't experience any hassle in the process. I easily got a home to rent and the application process is easy as 1-2-3. Such a great experience working with them if you're finding a home to rent. Very Professional Property Mgt. to deal with.
Bryan B
September 2017
The process has been extremely smooth. Anil was very helpful throughout the entire time to get me all set for the Apartment :)
Shafi
August 2017
I dealt with James and he was absolutely patient and actually made me feel like he was working alongside me. Sandy walked me through the lease signing and was very thorough and explained everything in detail, and asked me if I had any concerns. I would recommend James to all my family and friends. I am truly satisfied.
Rose
August 2017
I live at Zara Realty building... at 90-36 149th Street. The super is helpful and the building is clean. I live at the Zara building since 2008 and they are very nice to me. Daniel at the management office helped me all these years and he is one of a kind.
Charles
August 2017
Rishi was very helpful and took the time to find the most desirable spacious studio for my needs and budget . The agents very attentive in answering all my questions, making me feel comfortable with the process. I would highly recommend the sales agents [Singh Team] to anyone I know looking for an apartment. The property manager, Jasmine was excellent and took the time to make the application and move in process was a smooth transition
Shawn
August 2017
Nayeem and Rishi were very friendly and answered all of our questions and concerns. and easy to get a hold of. The process was very quick and simple. would highly recommend speaking to either one of them. Jasmine was kind and welcoming. She did a very good job getting the deal closed.
Cyn
August 2017
I was very happy with the entire process. Sandy was kind and very helpful to review all paperwork in detail. Raj was awesome to work with. He is kind, friendly and helpful in showing the apartment, reviewing everything I needed to know. I appreciate all that was done for me and my family and believe we will be happy here.
Donna
August 2017
I live at the Park Haven building, the building is very nice, clean and safe. I love my apartment. The staff of Park Haven and Zara is very professional and kind. I had some setbacks, but they assisted me to get the help I needed. I recently met with Daniel who was by far sat and helped me with my lease and my account. They are nice people
Kabir
August 2017
The service from Rishi and Shawn was remarkable especially given that we called and email as the primary means of communication. Both were accessible at all time. The only challenge which is not a reflection of the agents but a reflection of the company, it is important to provide transparent information so that tenants can make decisions knowing available information.
Tawanna
August 2017
The best property management that I've ever dealt with. They're very attentive, professional, helpful and reliable. Very happy with the home we rent and don't have any issues with them. I would definitely recommend them if you're looking for a good apartment to live.
Jeff L
August 2017
This team will not let you down. I'm looking for a home to rent near my work and the agents are very Professional and sensitive to my needs. They promptly answered any questions I had & quickly followed up on my requests. Such a great experience dealing with them of finding a home. I'll definitely refer Zara Realty to my friends looking for home to rent.
Kris B
August 2017
They are friendly, attentive and quick to respond to any questions and concerns. You can tell they care. Find quickly a good home to rent for you. True Professional
Mollie I
August 2017
I really don't know why there are so many harsh negative reviews with them don't get me wrong, but this company really gives me a right service. I really don't have any issues with them regarding the place and having transactions with them. Their agents worked hard to provide good service to me they helped throughout the finding process. - took their time to show vacant houses; the same as I described with them. And finally got what I wanted a home to rent. I've been a tenant here with 6 months and I really have a great communication and good relationship with them; if I have anything questions they answered it immediately. I don't have any problems reaching anyone of them, but most importantly, if there is anything problem occurred, they're very prompt about it. This company really stands out for their great service and professionalism and I'm so glad that I found them. If ever I needed to rent again, I'll definitely call them.
Kathleen M
August 2017
They made my renting without no-hassle. I was looking for an apartment to rent and they walked me throughout the finding process. From the first interaction, with agents, finding an apartment to move in, there are no issues. All went well. I'm so happy with the property I rent from them. Thanks, Zara.
Richard B
August 2017
I am looking for a property to rent and found Zara and it's great working with them. They were quick to contact to set a schedule a for viewing vacant place to rent and the process application is easy because they helped me into it. All I got to do is to fill-up and sign the form. Very pleased with their service. So professional! I would highly recommend them if you're for a property to rent. Happy with the home I rent.
Miles E
August 2017
Hands down, Zara Luxury Apartments & Homes has to be the most enjoyable place to live in town. Love my studio, the amenities, and view! It is nice to be in well managed building. Leasing office staff is very friendly and always responds with a sense of urgency. I look forward to seeing new buildings or new renovations pop up. Highly recommended
Francisca O
August 2017
They made the process of renting a home easy and less stressful for us. Our office was moved into a new location, that why I find a good location and home to rent which is near to my workplace and gladly found Zara Real Estate Agents. They show me immediately to us some vacant houses to rent; i'm glad that I have everything needed to make decision of renting will be A.S.A.P. They also handled all the paper works for us which is very great on our part to avoid hassle. So, I'll gonna do is read and sign it. Such a good experience working with Zara Agents and would definitely recommend to my friends.
Shane G
June 2017
They're far the best company that I've rented from. They have been very helpful and on top of everything I need. I was extremely satisfied with their level of dedication and service they provided to me. Very Professional!
Jeni B
June 2017
I've been living at New Haven Apartments for almost 4 years now. As a matter of fact, I just renewed my lease for another 2 years. I feel at peace living here. No matter what time I come home in the evenings, I do not have to look behind me. As a single person, security was one of my main concerns. This place is soooo secured with cameras all over. The office staff is very friendly and don't talk about the maintenance crew. Every time I have a problem in the apartment and make a request, they are always on time to fix the problem. They take great pride in what they do. Yesterday (6/16/17) I had a friend visiting me from Florida and as soon as she came off the elevator, the first thing she said was, this place is soooo clean. I also took her in the mailroom and she was amazed to see how clean it was. I would highly recommend New Haven Apartments to all my friends and family. Just loveeee this place!!!!
Natasha W
June 2017
They were simply a top-notch. This was our first renting a home experience and Zara Realty agents want to make sure that our rental experience with them will be great. Their expertise on marketing was very convincing and the process of renting a home made it efficient and pleasant. Their professionalism, hard work and persistence is what makes get our perfect choice of a home to rent.
Tiffany Y
June 2017
It's hard to find a good apartment on your own, but gladly met the agents of Zara Realty because of my friend's recommendation. I'm so happy they took time to have an initial discussion of my wants and needs of an apartment. After that they tour me around to view some apartment that matches my criteria. Ended up on getting a good apartment with them. Communication with them was great. They kept me up to date with the status of my application. Overall, a great experience.
Sherica B
May 2017
Zara helped me to find a new apartment for me. One of the agents at Zara Realty was highly professional, very talented and organized in showing some vacant apartments within my time schedule. Clearly understands my budget and boundaries, helped me to find a nice unit in a nice location. I am happy to recommend Zara Realty to all people who are looking for a good agent that will help them to search a perfect apartment for them.
Donna R
May 2017
I called Zara Realty just last week to find a new apartment for me. They were very responsive, helpful, on time, and were able to help us find many amazing apartments within my price range. So happy that I found a new apartment quickly.
Janice M
May 2017
Excellent. Professional. Straightforward. Responsive, courteous staff.
Beverly
May 2017
I'm trying to find a new apartment near my work and I'm so glad that a friend recommends me Zara. One of the agents called and spent time to discuss exactly what I was looking for. Then sent me about 10 pics of vacant apartments thru email and also helped me processed everything for me. Having a transaction with them was so fast, easy and stress-free. Finally, I've got a new apartment without hassle. Would definitely recommend them.
Leslie A
April 2017
Zara Realty provided me a good service from start to finish. They helped me to find a perfect apartment that passed to my qualifications. They showed me some samples of their vacant properties the same to what I've described to them. And I finally decided what I wanted to rent. I just want to thank Zara Agents for making my searching easy and stress-free.
Shawn B
April 2017
I received a positive experience at Zara Realty. They are very professional when it comes to customer service. –The customer service I've talked to over the phone was friendly and polite; I have many questions to ask, but they immediately answered it, patiently and also schedule an early appointment for me. Zara Realty Agents came on time, as promised. They asked me some questions about what I am looking for a home and I describe it to them. After 2 days, they showed some properties for me to choose, and get immediately exactly what I wanted. The monthly fee was so reasonable. They made my searching of property stress-free and hassle-free.
Primo H
March 2017
You can find a better place with the help of Zara Realty Agents. They asked you what you want in a home and they will find it for you. Completely Satisfy with our home. Thanks to the Agents at Zara Realty.
Joyce F
March 2017
Zara Realty is the most responsive service that I've ever dealt with. Applying and renting with them was easy and straightforward. I enjoyed my time renting through them. I would recommend them if you're looking for a better property to live.
Tessa W
March 2017
We had a great experience with the Zara Realty team. Communication with them was great and the process of finding was very quick, easy & no-hassle - which is significantly eased the stress. Thanks Amir and especially to your team for finding us a new & peaceful home to live.
Rockie E
February 2017
The staff at Zara Realty is friendly and professional. Their apartments are in a great location, and many are newly renovated. My experience with Zara has been nothing but positive. Tony and Amir answered all of my questions and made me feel very comfortable. I would definitely recommend Zara to my friends and family. Thank You!
John S
February 2017
I highly recommend Zara Realty if you're searching a perfect apartment to live. They make your finding an apartment smooth, hassle-free and stress-free.
Sharon S
February 2017
I really love these agents! They really understand our wants and needs of a perfect place to live. The apartment they've got for us was nice, living room and a full kitchen. It was close to everything we needed. All in all, they're great value for money and will definitely recommend them to others.
Crista L
February 2017
It's great working with them. They spent time to find an perfect apartment near to my work. I really love the home and place, it feels so good to live in a place with a good environment - friendly and lovely neighborhoods! Thanks...Zara
H Hughes
January 2017
Working with Zara Realty has nothing short of pleasant. They were very quick to respond to any concerns. I would definitely recommend them. Thanks for the great service, Zara.
Alenna H
January 2017
Working with this realtor was great. They made my searching smooth, easy and hassle-free; find a perfect place for me in no time. They were very organized; they took care to listen to what I am looking for and showed some great properties. I didn't feel pressured at all. I ended up getting a perfect apartment in just a day & give me a reasonable price on it. Worth it! I would definitely recommend Zara to all of my friends
Jason B
January 2017
This is the best company that I ever dealt with. They have my best interest at heart; very professional, nice and courteous. – They did a nice listening to what you want and have a good knowledge about areas. Helped us finding a perfect apartment to live –find something that fit to what we were looking for. Ended up with a fantastic place.
James R
December 2016
I've had nothing but good experience with this property. They were very professional and personable; they communicate with us every step of the way and go above and beyond to assure that your needs are met. They find us a good apartment to live. – The property is in a good location, great parking and storage and the good thing it is near from work. They also followed-up on us in a timely manner if we have any issues with our apartment or with a neighbor. You can tell that they really care about your experience as a resident. Thanks Zara Realty for making our living wonderful.
Glenn C
December 2016
Thanks to Zara Realty and to all staffs who helped me to find a perfect apartment for me to live. Can't be happier with my new apartment. Truly a professional! Will definitely recommend to anyone.
Sophie L
November 2016
We had an excellent experience from Zara. They spent time with us all over the place to find a perfect home. They truly had out interest at heart. Their professionalism, knowledge in the area; the home types/styles were very insightful. We love our new home to be and we couldn't be happier with it.
Evangeline W
November 2016
They were extremely nice as well as professional and responsive. In only a day they helped us to find a home we wanted. All the properties they showed were nice and suit to our wants and needs. The process went very smoothly. I am completely satisfied with my new home. Thanks… Zara!
Maryanne N
November 2016
Zara Realty helped us find a new apartment. It was a big help, they gave us new home to stay, it was a quick one and we appreciate it.
Eileen M
October 2016
Renting from Zara has been a top-notch experience. Great tenant community, no issues with neighbors, and tenant-friendly staff that have always been both helpful and responsive to all questions and requests. Sadly I will be moving to California shortly but would absolutely recommend Zara to friends and family looking for a place in Queens!
Jon C
September 2016
Zara Realty was the best. They gave us many good apartments to choose from. It was great thing to work with Zara Realty. Will recommend.
Michael F
September 2016
I called Zara Realty because I need a apartment asap. It was a hasty decision because we had so much problem on that neighborhood so we needed to move immediately to another apartment. Thanks to the help of an Agent from Zara Realty, we found a new apartment. We didn't do anything, we just told him that we needed a new place and then he delivers it. Thanks, you are so reliable.
Greta A
September 2016
We made a great choice when we hired Zara Realty. We never thought that we could find a new apartment after we talked that day. It was like a day after we talked and then they called us to check the new apartment. Thank you again Zara Realty. You are the best!
Joyce N
September 2016
We've travelled a long way from Baltimore to Manhattan with my friends. Really enjoyed the good service provided to us by the management! It was a very cleaned and systematic facility, and service by the staffs were very exceptional. Zara also provides security for you convenience with safety personnel and visible close circuit cameras. They are so accommodating and polite. Their head even asked us to contact them for any concern occurrences. Location was very close to a shopping center which we eagerly wanted to lavish on. What can I say more? Wouldn't hesitate to come back here for another visit. Highly recommended!
Michael B
August 2016
As someone who has done business with Zara Realty, I would like to vouch for their honesty and trust worthiness. I have visited the office a number of times and have found their staff to be friendly and helpful. Senior management is professional and easy to work with. Recommended to all!
Steve Y
August 2016
I rented from Zara prior to moving to San Francisco. Love the staff, they were always super friendly and helpful - especially Amir. I never ran into any issues and have recommended them to friends and family since
Shannon M
August 2016
I found in our more than 2 years dealing with Zara Realty that they are very approachable, helpful, professional and sincere. In other words, they are great to deal with. They would always answer questions or deal with tenancy problems promptly. If we didn't have to move, I would still be happy to remain as their tenants.
Janell M
August 2016